Getting Out of Funkytown… The Science of Feeling Good
Happiness Challenge 
  Grownup Lunchables Recipe 
  Provider Spotlight 
"Talk about it, talk about it, talk about it, talk about ittttttt"…
Feeling depressed, discouraged, and way down in Funkytown at times is normal in life, but it doesn't have to become your normal.
Have you heard of the field of Positive Psychology? 
It's been around since the '80s & is the study of feeling good. 
About 40 years ago, psychologists realized that so far, the field of psychology had been only focused on how to get people who were suffering with mental illness back to feeling normal again, but no one had ever tried to figure out how to get from feeling ok to a sense of thriving or flourishing, or as the kids used to say: living your best life.
 #YOLO
(Are they still saying YOLO? We have no idea.)
In her landmark study in 1998, Dr. Barbara Friedman published her Broaden and Build Theory. In this paper, she lays out the modern foundation of Positive Psychology:
The experience of positive emotions such as joy, love, fun, & even awe actually change our bodies & brains for the better! Who knew?
And not only this, but the more we experience these positive emotions, the more we experience all positive emotions! Dr. Friedman lays out the idea of an "upward spiral."
Each positive experience can build up on the previous one, which leads to 
  expanded psychological resources & physical wellbeing. 
Studies have shown results such as:
improved focus
more satisfying relationships
better sleep
decreased risk of heart attacks 
The more we intentionally create moments & experiences of fun, awe, & love, the more we broaden our capacity to take in the positive effects for body & mind.
The Big Fun/Little Fun Challenge
In her book "Body Kindness", Rebecca Stritchfield teaches the importance of making room for "Big Fun" & "Little Fun" & of scheduling fun regularly for our mental & physical health.
  Little Fun = things in our everyday life that could actually be more enjoyable & more fun than they currently are. Incorporating bouts of "little fun" into daily routines helps bring meaning & pleasure to tasks & activities that might otherwise be perceived as tedious or mundane.
  Big Fun = things that require a bit more planning & time but are also important
for our well-being. Day trips, vacations, trying out new dance or fitness classes, or a special experience like taking surfing lessons or a cooking class can all be fun.
The Team at SpineZone is throwing down a Happiness Challenge to you this month: 
Incorporate at least one Little Fun into your day… every day!!
Plan one Big Fun for the month!
---
"Talk about, talk about, talk about moooooovin"
… to Grownup Lunchables:
A lot of us are probably familiar with the lunchables we may have eaten for lunch as a kid. But what about making a grownup version? 
Creating a grownup lunchable is a fun & easy way to add a bit of variety to lunch or dinner! Plus, it's a fun activity for your whole family to pick out different food items for the grownup lunchable!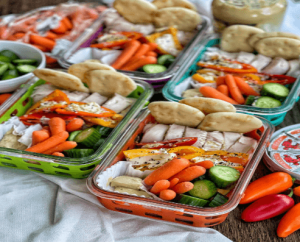 You can really incorporate whatever food items you would like into your "grownup lunchable" but we encourage you to use the "building balanced meals" framework of making sure you have a protein, a carbohydrate, a fat, & some color in the form of fruits or vegetables! 
Some ideas of foods you could add as part of your lunchable include: 
  Protein + Fat: Greek yogurt w/honey & peanut butter as a dip for apples, or cheese sticks, boiled eggs, cottage cheese 
   Protein: grilled chicken strips, deli turkey, tuna, smoked salmon 
  Carbohydrate + Protein: roasted chickpeas, frozen steamed edamame w/salt
   Fat : olives, almonds or other nuts, hummus 
   Carbohydrates: whole grain crackers, rice cakes, pita chips or pita bread 
   Color + Carbohydrates: sliced apples or pears, berries, carrot sticks, sugar snap peas, sliced bell peppers, cucumber slices 
Once you have everything for your lunchable, assemble on plates or in lunchboxes & enjoy! 🙂 
And now we've   
"Gotta move on
…"   to our Provider Spotlight:
Provider Spotlight
Provider of the Month: Caitlin Gibson, MS, ATC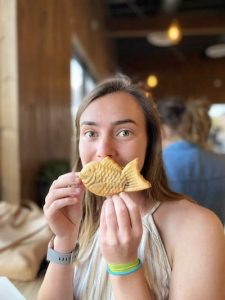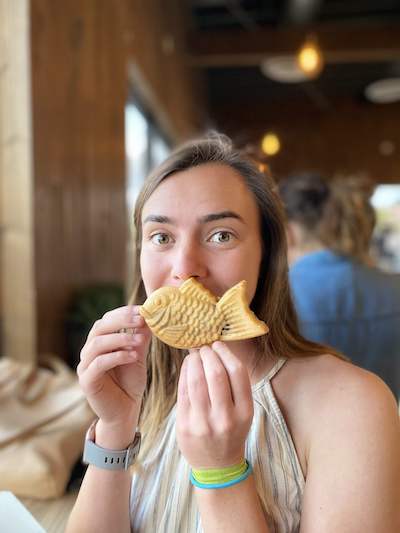 Caitlin Gibson graduated with her Master's Degree in Athletic Training & her Bachelor's in Exercise Science from Saint Louis University. Caitlin played Division 1 field hockey & loves to play with her dog, Nigel. She's worked in a fun variety of clinical settings ranging from high schools, colleges, & gyms… to overseas in Scotland!
(Don't you love it when your clinicians are experienced, educated, and cool?)
Q: What are your specialty areas of treatment? 
My area of specialty is working with patients who want to return to a level of sports participation like golf, swimming, tennis & squash. My ultimate goal is to become a PA so I can help more people & touch more lives.
Q: What's your secret super power?
My secret super power is listening & hearing my patients. 
Q: Which clinic do you work from?
All of them, because I'm SpineZone Online!
Q: If you could teach all of your patients one thing, what would it be?
Persistency & consistency pays off! We often hear the saying "Rome wasn't built in a day" but we forget about the second part of the quote. The full quote is "Rome wasn't built in a day but they were laying a brick every hour". This can be the same with performing exercises or working on your posture. Do not feel discouraged if you are having difficulty with an exercise or movement. Keep trying! 
We're so happy to have Caitlin on our SpineZone team! To schedule with Caitlin or any of our other stellar providers, click here!
…And finally,

"Won't you take me to"

… our BeingWell Team's Summer Obsessions?
Eat: Bada Bean Bada Boom Snacks <add link if it's on our site>
Read: The Body Keeps The Score 
Watch: "Our Great National Parks" with Barack Obama on Netflix
Listen: On Being with Krista Tippett: "Pico Iyer & Elizabeth Gilbert – The Future of Hope 3" – Listen on Apple Podcasts or Spotify
---
At SpineZone, we focus on your pain, so you can focus on your healing.