The Sharp Community Medical Group is the largest Independent Physicians Association in San Diego and one of the largest in California.
SCMG, formerly led by John Jenrette, MD, is recognized nationwide for its innovative, efficient, and effective delivery of care.
In 2007 SCMG has the foresight to recognize that traditional model of care were not the most efficient way to care for their population. They partnered with SpineZone, and later in 2010 they jointly ran a 2 year study which showed how effectively SpineZone treated their patients.

Scripps Coastal Medical Center has been serving patients throughout San Diego County since 1924.
In 2014, Scripps Health was listed among 15 top health systems in the nation by Truven Health Analytics.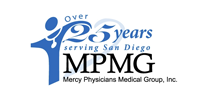 Mercy Physicians Medical Group has provided high quality care to San Diego residents for over 30 years, earning several honors, including "Elite" status from the California Association of Physician Groups.
Since 2010, MPMG has been named the top independent physician association in San Diego for patient satisfaction by the Patient Advocacy Survey.